Marathan Motor Works
26 Oct 2002
Everyone knows that the Nashville and middle Tennessee areas are home to many auto manufacturing plants: Nissan, Saturn, etc. But did you know that Nashville was home to the Marathon Motor Company as early as 1910?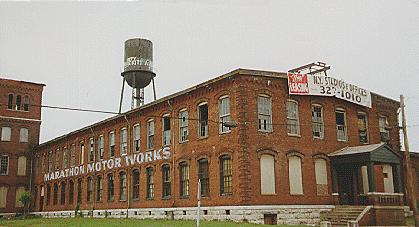 The Marathon Motor Works, originally called the Southern Motor Works, was erected in 1910. It produced four models, powered by engines ranging from 4 cylinder 35HP engines to 6 cylinder 50HP engines. The plant itself closed in 1914 due to financial troubles, but continued making parts until 1918. Today, only eight original Marathon cars exist.
The building still stands, but is quite delapidated, despite being a historical landmark. It's located on 12th Avenue North and Clinton Street. It evidently has been renovated by Nashville local Barry Walker into a studio apartment complex/small business complex – more about that here.
The picture above really doesn't do the building justice. It's a very neat looking old building. I was taking Amanda to work and she spotted it from a distance, so we cruised around the block until we found it.