my first doxxing
27 Jan 2017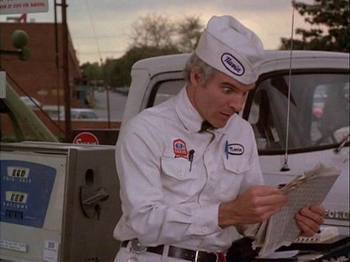 "Things are going to start happening to me now!"
So, I got doxxed! FINALLY! I've been on this internet of ours 20 some years now. I've had racists threaten to dismember me at concerts, local stalkers repeatedly threaten castration/murder, etc. But no one has ever actually bothered to threaten me by pointing out they know where I live (not that it's hard to find) – until now! Last night, I received two anonymous email messages with my (old, and redacted to protect the current occupant) address and "see you soon".
The last straw that finally got me doxxed after 20 years on the internet? Apparently, it's making the case that unprovoked violence is bad.
I encountered a facebook thread on an acquaintance's post targetting the location of Richard Spencer and advocating violence, the comment thread of which was full of similar pleasantries – jokes about curbstomping being the most charming. So I chimed in, saying that this behaviour is disgusting. Someone disagreed (as is their right!), and labelled me a nazi sympathizer, shared my blogpost and, apparently, elicited said doxxing.
And so! I would like to go on record as saying that, in addition to unprovoked violence being bad, I also think doxxing people that think unprovoked violence is bad is also bad.
I would also like to make yet another appeal to my friends and anyone else out there hopping on the punching-suspected-nazis-is-good bandwagon, whether out of a misguided sense of historical ennui or just a bit of machismo chestpuffing: please pull your head out of your ass.
For the curious, details below (and no, I'm not worried about the seriousness of this threat – very likely adolescent edgelordery, much like all of this).
First email:
Return-Path: <[email protected]>
X-Spam-Checker-Version: SpamAssassin 3.4.0 (2014-02-07) on felix.quietlife.net
X-Spam-Level:
X-Spam-Status: No, score=0.8 required=5.0 tests=BAYES_50,FREEMAIL_FROM,
        RCVD_IN_DNSWL_NONE,SPF_PASS autolearn=ham autolearn_force=no version=3.4.0
X-Original-To: [email protected]
Delivered-To: [email protected]
Received: from outbound004.roc2.bluetie.com (outbound004.roc2.bluetie.com [208.89.132.144])
        (using TLSv1 with cipher DHE-RSA-AES128-SHA (128/128 bits))
        (No client certificate requested)
        by felix.quietlife.net (Postfix) with ESMTPS id 3BDF3255B0
        for <[email protected]>; Thu, 26 Jan 2017 20:35:42 -0600 (CST)
Received: from web002.roc2.bluetie.com ([10.200.2.96])
        by outbound004.roc2.bluetie.com with outbound004
        id dEbX1u00224HP3e01EbXsB; Thu, 26 Jan 2017 21:35:31 -0500
X-CMAE-OUT-Analysis: v=2.1 cv=FfG5xfO6 c=1 sm=1 tr=0
        a=41l5LDBFByitqw60Fh41mg==:117 a=L9H7d07YOLsA:10 a=9cW_t1CCXrUA:10
        a=s5jvgZ67dGcA:10 a=IkcTkHD0fZMA:10 a=iCAEJT2w3HgA:10 a=IgFoBzBjUZAA:10
        a=7fpVheC-bwZQUd9K_80A:9 a=QEXdDO2ut3YA:10
X-CMAE-OUT-Score: 0.00
X-BT-OutboundSpamChecked: true
Received: from web002.roc2.bluetie.com (localhost.localdomain [127.0.0.1])
        by web002.roc2.bluetie.com (Postfix) with ESMTP id A6C253F0139
        for <[email protected]>; Thu, 26 Jan 2017 21:35:31 -0500 (EST)
Message-ID: <[email protected]>
X-HTTP-Received: from Authenticated sender: bashfash.excite [62.210.129.246] by web002.roc2.bluetie.com (BlueTie WebMail); Thu, 26 Jan 2017 21:35:31 -0500
X-Mailer: BlueTie MTA
Date: Thu, 26 Jan 2017 21:35:31 -0500
Cc:
To: [email protected]
From: Full Name <[email protected]>
Importance: normal
Subject: [REDACTED ADDRESS]
Content-transfer-encoding: quoted-printable
Content-Type: text/plain; charset=UTF-8

see you soon

Second email:
Return-Path: <[email protected]>
X-Spam-Checker-Version: SpamAssassin 3.4.0 (2014-02-07) on felix.quietlife.net
X-Spam-Level:
X-Spam-Status: No, score=-0.6 required=5.0 tests=BAYES_20,RCVD_IN_DNSWL_NONE,
        RP_MATCHES_RCVD,SPF_HELO_PASS,SPF_PASS autolearn=ham autolearn_force=no
        version=3.4.0
X-Original-To: [email protected]
Delivered-To: [email protected]
Received: from remailer.paranoici.org (remailer.paranoici.org [88.80.28.20])
        (using TLSv1.2 with cipher AECDH-AES256-SHA (256/256 bits))
        (No client certificate requested)
        by felix.quietlife.net (Postfix) with ESMTPS id 77C72255B0
        for <[email protected]>; Thu, 26 Jan 2017 22:01:02 -0600 (CST)
Received: by remailer.paranoici.org (Postfix, from userid 1001)
        id BE1EB100B56A; Fri, 27 Jan 2017 04:00:57 +0000 (UTC)
From: Anonymous <[email protected]>
Comments: This message did not originate from the Sender address above.
        It was remailed automatically by anonymizing remailer software.
        Please report problems or inappropriate use to the
        remailer administrator at <[email protected]>.
To: [email protected]
Subject: [REDACTED ADDRESS]
Message-ID: <[email protected]>
Date: Fri, 27 Jan 2017 04:00:57 +0000 (UTC)

see you soon

The facebook thread in question: