best album of 2006
20 May 2006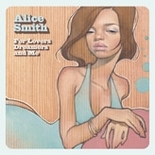 It's hard for me to remember an album as instantly likeable as Alice Smith's For Lovers, Dreamers, and Me. Amanda got a tip from a friend of hers in Brazil (how cosmopolitan) about this album, and so she finally snagged it last night. It's utterly amazing, from beginning to end.
[http://www.place.org/~cwage/sounds/Alice_Smith_Dream.mp3] (Alice Smith - Dream)
[http://www.place.org/~cwage/sounds/Alice_Smith_Woodstock.mp3] (Alice Smith - Woodstock)
First, the obvious selling point is her voice, which is expansive and flawless – every review of this album points out her 4-octave range, and I would remiss if I didn't as well. But a voice can't carry an album, much to the chagrin of just about every top 40 billboard R&B artist of the last 20 years. The striking feature of this album to me is the songwriting and liberal blending of genre and technique. When was the last time you heard a quasi-R&B album with a diva lead of a singer that had a song that reminded you of the Beach Boys? That's right, actual creative use of harmony.
[http://www.place.org/~cwage/sounds/Alice_Smith_Gary_Song.mp3] (Alice Smith - Gary Song)
The first thing that struck me as I listened to this album (after "holy crap, I love this") was that I would love to see a collaboration between Alice Smith and Andre 3000 – I think their sounds would dovetail nicely.
[http://www.place.org/~cwage/sounds/Alice_Smith_Know_That_I.mp3] (Alice Smith - Know That I)
Anyways, keep your eye on Alice Smith – you'll be hearing her name again, even though it's sorta tough to track down info about her now. (Though she does have a myspace page and blog.) This album is by far the best album of 2006, and one of the fresher, original sounds I've heard in a long, long time. I am in love with it.