dengue fever
09 Feb 2006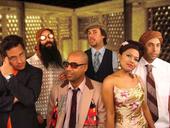 My latest play-on-repeat obsession is an album called Escape from Dragon House, by a band called Dengue Fever.
[http://www.place.org/~cwage/sounds/Dengue_Fever-Sni_Bong.mp3] (Dengue Fever - Sni Bong)
[http://www.place.org/~cwage/sounds/Dengue_Fever-Tip_My_Canoe2.mp3] (Dengue Fever - Tip My Canoe)
I can't remember how we ran across them – I think it was after I had been listening to the Ethiopiques compilation, and picked up the Broken Flowers soundtrack, which has some Mulatu Astatke tracks on it. It also has a song by Dengue Fever, called Ethanopium. Evidently the earlier incarnations of the L.A.-based band involved a submersion in Ethiopian jazz/blues (who could blame them?) and this was a song inspired by that style – it's a pretty straight-up rip-off rendition of anything you'd find from Ethiopia during the 60s/70s.
Anyways, the band crystallized somewhat with the Holtzman brothers' fascination with Cambodian pop, and their subsequent introduction to Chhom Nimol, already somewhat of a pop star in Cambodia. They did some covers of older Cambodian pop tunes from the '60s and then decided to try their hand at original material on this latest album. The result is more or less surf-rock meets Cambodian pop (which is somewhat already infused with some of this influence, from what I understand).
Sni Bong and Tip My Canoe are the stand-out tracks, for me, which I've sampled above. They do some serious rockin, here. I'd like to see them live – I've read descriptions of their shows and it sounds like a lot of fun, with Chhom Nimol decked out in full Khmer regalia.
Anyways, give it a listen. I love it.
UPDATE: I uploaded a different sample of Tip My Canoe because the emusic sample didn't have the rockin' part.