walter wanderly
21 Nov 2005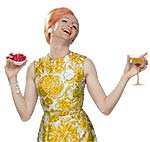 [http://www.place.org/~cwage/sounds/Walter_Wanderly_Girl_From_Ipanema.mp3] (The Girl from Ipanema)
[http://www.place.org/~cwage/sounds/Walter_Wanderly_Wave.mp3] (Wave)
Welcome, welcome! Can I get you a drink? Would you like to, uh.. watch some black and white TV? Have a seat on my eccentric hyper-modern furniture. Check out my shag carpet, and my other assorted quirky old .. things.
Okay, so, I wasn't actually alive in the 60s, so I have no idea what I'm talking about. But my neverending quest to turn my life into a James Bond movie without all the killing continues unabated. My musical tastes have continued to draw inspiration from the movie soundtracks of the era. My latest find is a pretty awesome one – a guy named Walter Wanderly.
Walter Wanderly was a Brazilian hammond B3 player, and a prolific recording artist throughout his life, recording 46 solo albums throughout his career. He was at the forefront of the bossanova movement, and gave it an interesting flair with the addition of Hammond B3 and the MOOG synthesizer. I am a big fan of the B3, as it runs in my family, and Wanderly is a competent player. He's no Joey Defrancesco and certainly no Dennis Wage, but he's good, and playful. The addition of the MOOG is truly awesome.
I picked up a compilation from emusic, Brazil's Greatest Hits, which boasts a pretty solid lineup of jazz artists, as well, including Joe Pisano, a guitarist that I know from a great duo with Joe Pass (the one true god of jazz guitar), "For Django".
It's got a lot of standards I quickly recognized, even if I couldn't name them, and of course the requisite cover of The Girl from Ipanema (sampled above). So, invite some friends over, mix up a pitcher of martinis, and check it out.