thursday car blogging
05 May 2005
A bit of auto industry blogging today:
The sad saga of MG Rover's demise continues. In April, MG Rover, formerly Britain's largest automaker, was forced to file for bankruptcy after a deal with a Chinese firm fell through, effectively ending the chances of saving the company. The latest is that there are now possibly potential buyers for the tattered remains of this once proud maker of many fine automobiles (just ask Blake – he owns two of them). Some of the names being thrown around as interested parties in some of the pieces of MG Rover as well are Lotus, TVR and others. A picture sure to bring a tear (or a gleam) to the eye of many a British car lover. Tens of thousands of unsold cars sitting in a lot after dealers complain about the vehicles being "dumped" on them: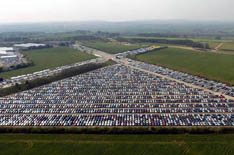 Slate also ran an interesting article exploring the possibility of MG Rover being absorbed by the Axis of Evil.
In other news, the April sales numbers are in. See these three posts at Autoblog for details, but some of the highlights:
Nissan up 27%
Land Rover (who is probably pretty glad to have been bought by Ford at this point) up 24%
Jaguar (perhaps not so glad) down 30% – maybe people finally figured out that slapping cheap stylings and a jaguar emblem on a Taurus doesn't make it a luxury car.
VW's downward spiral continues with a 30.8% decrease
Toyota up 21.3% with strong hybrid and Scion sales
Not such a hot day for the Americans, as S&P cuts GM and Ford down to Junk status.