950 HP RX-8 anyone?
29 Jan 2005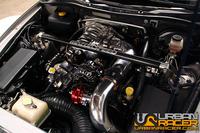 Marcos Acosta Jr. has swapped out the Renesis for a 3-rotor 20B with a Garrett T76 dual ball bearing turbocharger which, with many other modifications, makes a monster out of a Mazda RX-8:
Once all the parts were bolted together and screws tightened and double checked, the Acosta Racing crew set out for the automotive equivalent of the lie detector test – the dyno. With the turbo boost restricted to a mild 12 psi, the rollers on the dyno spun to a reported 640 hp. According to Acosta Jr., it didn't take long before Acosta Sr. had the 3 rotors humming along to the tune of 950 hp on VP C16 race fuel and at 28 lbs of boost.
I'll take two, please.