a brilliant design
25 Jun 2004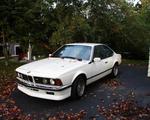 An interesting out-take from Architectural Digest's May Issue:
Architectural Digest's Editor-in-Chief Paige Rense explains the issue's concept this way: "We're asking (contemporary designers) to tell us what things – old or new, big or small, rare or ubiquitous – reflect, in their opinions, the fundamental principles of brilliant design."

The issue's 356 pages are laced with wonderful examples of homes, furniture, clothing, decorative items… even famous trains and aircraft. But I was both surprised and delighted, considering AD's normal home-oriented theme, to see how many automobiles were selected by designers and decorators as a favorite design example. Here, for your edification and entertainment, are the vehicles along with the accompanying quotes.
Listed among the automobiles is the BMW 6-series:
"Sleek, refined, graceful, aerodynamically proportioned."
I couldn't agree more. Nice to have my preference validated.