hell of a ride
04 Feb 2004
Well, there's no picture of the day feature, so here's a picture of the year. This is a ride you won't find at any amusement park. Click to view the full-sized (1260x1017, 238KB) image: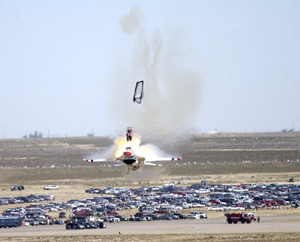 For those of you that are bandwidth-endowed, check out the 3008x1960, 2.8MB version here
The picture was taken during an air show at Mountain Home Air Force Base, Idaho, when the pilot, Chris Stricklin, initiated a split-S too low in an F-16. For more on the background, see avweb's story, and also the confirmation of authenticity as well as some other movies.. Pretty amazing.
The picture was taken by Staff Sgt. Bennie J. Davis III, Still Photographer, U.S. Air Force, with a Nikon D1X camera using a 300-mm lens with an aperture setting of 2.8 and shutter speeds of 1/1000 and 1/2000. The picture is admirable, not only because of the quality, but also because the F-16, after being diverted away from the crowd of 68,000+, was headed right for the tower, stopping only a few hundred feet away.