Outkast – Speakerboxxx/The Love Below
17 Oct 2003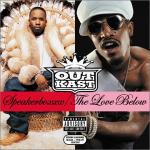 This release isn't one album. You probably know that. It's two albums packaged together. Andre 3000's solo effort "The Love Below" and Big Boi matching it with his "Speakerboxxx". Let's talk about what we expect from these albums. We have a tendency to polarize duos. Brains and Braun. Pinky and the Brain. From what I understand, most expected Andre 3000's effort to be the Brains to Big Boi's solid braun. Andre's intellectualism would lead him into an experimental departure highlighting him as the real brains behind the phenomenon of Outkast. Or Big Boi's irreverent attitude and big beat enthusiasm would demonstrate that he's the driving force behind Outkast. Maybe. Whatever.
Neither of these are the case. What we have, here, are two unique albums, worlds apart, that together represent very well what we know of the Outkast universe. Both are spectacular. It wouldn't be fair to review these albums strictly in comparison with one another. But, they were packaged together, so comparison is inevitable. I'll do both.

The Love Below
Andre 3000

This is one of those albums that makes a mockery of your local music store's genre categorization. Does it go in "hip-hop"? No, he does more singing than rapping – it must go in "pop rock". But, there are more jazz instrumentals than guitar solos. Wait, he's black. It must go in "R&B". Well, not really. What section should it go in? I don't know. I vote for the "Really Good Shit" section.
First, my highlight of the album: "John? Were we recording our ad-libs?"
This album took a while for me. It took a number of listens before it really grew on me, which is usually the hallmark of an album I'll eventually really love. This appears to be the case so far. Part of this had a lot to do with my expectations, I think. This is a very melodic album. Andre 3000 isn't exactly Harry Connick Jr., but he croons away on this album nonetheless. Because there isn't much on this album that resembles the dirty south Outkast hip-hop that we know and love, I listened to this album a few times through waiting for it to get to the "good part". The head-bobbing break-neck phat beats. They never came. What I evidently took for "interlude" after "interlude" was in fact the bulk of the album. After I got over this I really started to pay attention, and it's been more rewarding with every listen.
You could do a lot of comparing to Prince, but I think that's only for lack of anything better to compare it to. "Spread" and "Prototype" are catchy tunes that get the album off to a slow and somewhat dreamy start. "She Lives In My Lap" and "Hey Ya!" pick it up a bit. "Roses" just plain rocks. "Behold a Lady" gets your head bobbing a bit. But, enough with the track by track.
When Andre 3000 does rhyme on this album you wonder why he ever quit. It's tight, fast, and furious. Blink and you'll miss it. Also, I am tempted to say I catch a bit of influence in his vocal meter these days from his work with Slick Rick, but maybe that's just my imagination.

Speakerboxxx
Big Boi
Okay, I admit it, maybe there is a pattern emerging in this duo. If Andre 3000 impresses us with his ability to experiment and do something completely different, Big Boi keeps it real. The opening track (after the superfluous, obligatory "Intro") "Ghetto Musick" is entertaining enough, but it isn't until "Unhappy" that you start to realize that Big Boi is going the crowd-pleaser route on this album. It's becoming clear already that Speakerboxx is the evolutionary next step from Stankonia. The first 8 tracks are all solid. Really solid. Good stuff.
Then you get to "Church". Holy shit. This song is good. The beginning of this album got my head bobbing, but this song had me doing stupid dances in my chair that I'd never do in my right mind if I ever thought anyone was watching. I listened to it over and over. How is this not their (his?) hit single? It's like gospel for the 21st century.
The rest of the album is great, too. "The Way You Move" is a splendid mix of great rhyming and a catchy, melodic chorus. "The Rooster" is a grandiose tune that seems like it should be the theme-music to something. The song with Ludacris ("Tomb of the Boom") sucks, but maybe I am biased.
There's a hilarious interlude with his son in the mic booth. It's funny, and cute. I won't bother transcribing it, because this person already did. Cee-lo from Goodie Mob makes an appearance, too, which pleases me, because I love his voice.
---
I won't compare the two laboriously. I think they're both solid albums, and they're very different. It's like a deconstruction of Outkast. You realize what they both contribute to the group. They're both smart, talented, and clever. It's also cool and encouraging to see them packaging their albums together – acknowledging their desire to stretch their wings without dissolving the group. "The Love Below" is a great album to put on and relax while you stare at the ceiling. "Speakerboxxx" is the album you want if you want to get a party jumping (or if you just want to do a stupid dance in your chair).