General Elections
08 Aug 2003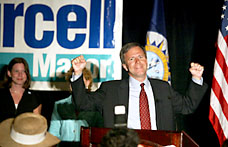 In case you missed it, August 7th was a general election here in Nashville. Up for grabs were the district Metro Council spots, 5 at-large Metro Council positions, Vice Mayor, and Mayor. Voter turnout was predictably low, with only 19% of the 322,000 registered voters bothering to make it to the polls.
Why? Well, Mayor Bill Purcell was expected to deliver a relatively uncontested landslide (despite 4 other opponents), and Vice Mayor Howard Gentry was unopposed. The only real heat was in the council, which doesn't tend to generate much voter interest.

With 84.2% of the vote, Bill Purcell won a second term as Mayor of Nashville. Howard Gentry, of course, snagged another term as Vice Mayor, with no opposition.
The council at-large election is somewhat still undecided. In order to win an at-large seat on the coucil outright, you must receive 10% of the vote. Accomplishing this and securing their seat were Buck Dozier, Diane Neighbors, and unabashed bigot Carolyn Baldwin Tucker.
In fourth place was incumbent Adam Dread. They're saying it's too close to call whether or not he got the 10% required for a seat. If he did, David Briley and Larry Schmittou would face eachother in a runoff for the remaining seat. If not, he would face Briley, Schmittou, and Roy Dale in a run-off election for the two seats. Dread is a generally well-liked progressive guy, who is best known for his work with the beer board and his campaign to extend the open hours and days of the public libraries. I'm hoping he gets the 10%, but if he doesn't, I'd encourage you to give him your vote in the run-off.
I was disappointed to see that my second favorite unabashed bigot, Jason Alexander reclaimed his seat on the council in district 28. Oh well. Sometimes I forget that I live in the bible belt.